The Willis Chipman C.E. Page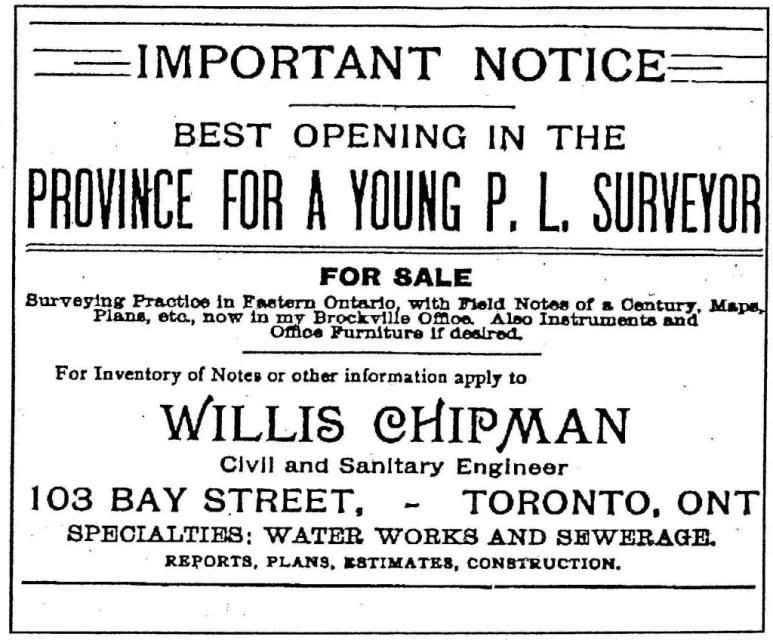 | | |
| --- | --- |
| | |
WILLIS CHIPMAN (1855-1929)

Willis Chipman was descended from an old English family that dates back to the time of William the Conqueror and that a forefather, John Chipman (1614-1708) emigrated to Boston in 1631. Succeeding generations lived in the New England area until Willis's great grandfather moved his family from Vermont to Upper Canada (Ontario) in the winter of 1795.

Willis Chipman was born in Elgin, Ontario, on October 1, 1855. He is a graduate of Athens (Ontario) Public School, Weston High School and McGill University - Civil & Mechanical Engineering with Honours, in 1876.

After graduation from McGill, he first worked as a high school mathematics teacher in Napanee and soon afterwards joined the Geological Survey of Canada (GSC).

After leaving the GSC he worked as the assistant engineer during the construction of an early Toronto waterworks system and then articled under land surveyors where he earned his commission both as a Dominion Land Surveyor (DLS) and an Ontario Land Surveyor (OLS) in 1881.

In November 1881, Willis Chipman established a private practice in Brockville Ontario as a Land Surveyor and Consulting Civil Engineer. The business prospered and in 1894, the office was moved to Toronto.

Chipman was the Supervising Engineer of the Brockville waterworks from 1884 to 1892.

Chipman served three terms on Council of The Canadian Society of Civil Engineers (later the Engineering Institute of Canada), after its founding in 1887.

Chipman was instrumental in the founding of The Association of Ontario Land Surveyors and served as its first secretary treasurer from 1886-1890. In 1895 he held the office of Vice-President and in 1896, President.

Chipman served as President of The Association of Public Health Officers of Ontario in 1893.

Chipman was instrumental in the founding of the Association of Professional Engineers of Ontario in 1922. He served as its second President in 1923.

Willis Chipman died on January 3, 1929 and was buried in a family plot in Brockville with his iron ring which denotes Rudyard Kipling's "Ritual of the Calling of an Engineer".

In the Spring of 2003, the Consulting Engineers of Ontario (CEO), a non-profit industry association created the Willis Chipman Award to recognize the knowledge, skill and expertise of consulting engineering firms and to showcase the importance of engineering projects to the economic, social and environmental well-being of Ontario. The award is a fitting way to recognize consulting engineers for excellence and to pay tribute to one of the great leaders and innovators of the engineering profession.

Willis Chipman, was one of Canada's pioneer consulting engineers, worked on water and wastewater systems in many parts of Canada in the late 1800s before setting up the private consulting practice of Chipman and Power in 1901. His engineering consulting firm brought "sanitary engineering" to communities which were often blighted with lethal water- borne diseases. He laid the foundation for standards in drinking water and waste water systems in Canada. Because of the work of Chipman, thousands of Canadians and new Canadians of the 19th and 20th centuries enjoyed "safe" drinking water that was free of such classical waterborne diseases as disentry, cholera, typhoid and paratyphoid.

Chipman had completed both waterworks and sewage treatment projects in 56 cities, from Halifax, N.S. to Victoria, B.C. Some of Chipman's published articles in the technical magazines covered such topics as London's Sewage System, Oakville Waterworks Auxiliary, and the Ontario Waterworks System. Chipman published a paper in the Proceedings of the Canadian Society of Civil Engineers (CSCE) entitled "The Separate System of Sewerage and Storm Water Drainage". He is regarded as the originator of separate systems for sanitary and stormwater sewers in Canada. During his long career which spanned nearly 50 years, Willis Chipman prepared design reports and offered consulting engineering services for 90 water supply and sewage treatment projects. Seven of these projects were in Atlantic Canada, two in Quebec, fifty-four in Ontario and twenty-seven in Canada's four western provinces.




This 60 x 60 cm. marble plaque is from the Burlington Ontario pump house. It is now displayed at the Burlington Water Purification Plant at 3249 Lakeshore Road. Willis Chipman's name appears on this plaque and also on a 1909 London Ontario hydrant. Chipman worked on the sanitary sewer system in London Ontario in 1890.

Willis Chipman's name is also cast on the back of some Kerr Engine Co. Limited hydrants that were made for the town of Petrolia Ontario.